PM launches Ayushman Bharat from Jharkhand
PM Narendra Modi launched centre's flagship scheme 'Ayushman Bharat-Pradhan Mantri Jan Aarogya Yojana (AB-PMJAY)' from Ranchi, Jharkhand.
"The prime minister will launch the scheme on September 23, but it will become operational from September 25 on the birth anniversary of Pandit Deen Dayal Upadhyay," said Niti Aayog member V K Paul, the chief architect of the scheme.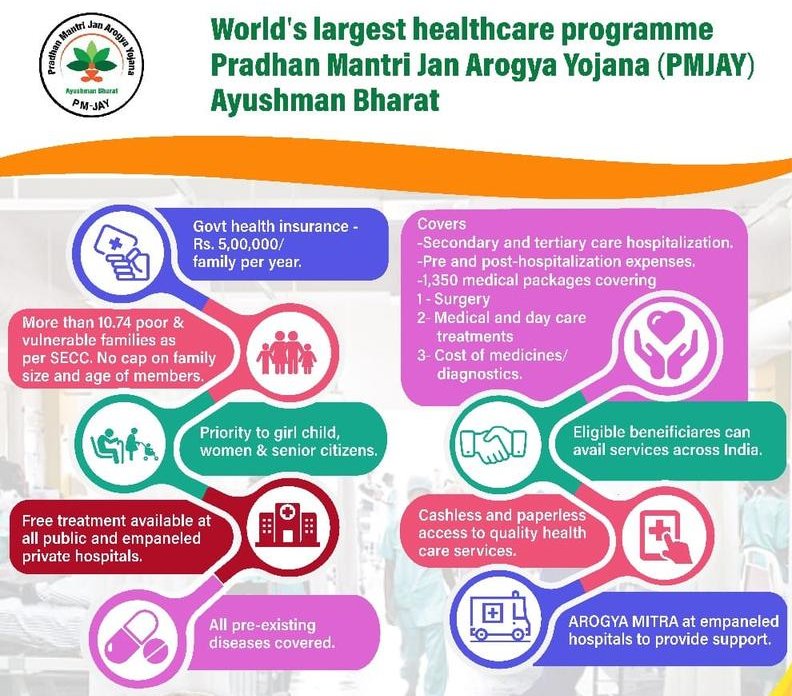 The scheme aims to provide Rs. 5 Lakh medical insurance per family annually for secondary and tertiary care hospitalisation. According to Socio-Economic Caste Centre (SECC) data, it will cover more than 10 crore families (50 crore beneficiaries) on the basis of deprivation criteria. There is no cap on family size and age.
Glad that #AyushmanBharat, one of the largest healthcare initiatives globally, is associated with two greats- Dr. Babasaheb Ambedkar and Pandit Deendayal Upadhyaya.

On Ambedkar Jayanti, wellness centres were launched and just before Deendayal Ji's Jayanti, PMJAY begins. pic.twitter.com/9svdAvFOY7

— Narendra Modi (@narendramodi) September 23, 2018
AB-PMJAY, announced in PM Modi's Independence Day speech, is a centrally sponsored scheme with 60% cost incurred by the centre, 90% for Northeast and Himalayan states and 100% for UTs without legislature. According to VK Paul, it will cost Centre around Rs.3500 crores in the current fiscal.
Also termed as Modicare, it is the world largest government funded healthcare program. It will be launched in 445 districts simultaneously. A Memorandum of Understandings (MoUs) is signed between 31 states and Union Territories. The Centre is to implement the programme over the next two to three months. Around 8,735 hospitals, both public and private, have been empanelled for the scheme.
The Health Ministry has included 1,354 packages in the scheme under which treatment for coronary bypass, knee replacements and stenting, among others, would be provided at 15-20 per cent cheaper rates than the Central Government Health Scheme (CGHS).
The scheme provides cashless and paperless benefits while visiting any public or private empanelled hospitals across the country. The insurance will cover both pre and post hospitalisation expenses.
A two-page customised letter from the PM, outlining the importance and benefits of the project is sent to beneficiaries in Jharkhand. "Around 57 lakh families in Jharkhand are expected to receive letters by Sunday morning," an official said.
"I hope you will receive complete treatment without the need to worry about the expense and without any hassles," the letter states.