Reliance Group was Dassault's choice to make Rafale fighter jets under 'Make in India'
On Saturday, September 22, 2018 The French Government and the maker of Rafale fighter jet, Dassault Aviation clarified in their statements about picking their Indian Industrial partners in Rafale jet deal.  
The clarification was made as former president of France, Francois Hollande was quoted on a website as calming that Government of India proposed the name of Reliance defence as its Indian partner in the Rafale deal.
Hollande was quoted by the website, saying, "We did not have a say in this. The Indian government proposed this service group and Dassault negotiated with Ambani".
Should India take #FrançoisHollande's bombshell over the #RafaleDeal at face value, or is there a need to be circumspect?https://t.co/m9EBTEbKbl

— Firstpost (@firstpost) September 22, 2018
In response to the claim, the French government statement said, "The intergovernmental agreement signed on 23rd September 2016 between the French and Indian governments for supplying India with 36 Rafale aircrafts, concerns the obligations of the French government solely with regard to ensuring the delivery and the quality of the equipment".
It said, "The French government is in no matter involved in the choice of Indian Industrial partner who have been, are being, or will be selected by French companies. In accordance with India's acquisition procedure, French companies have the full freedom to choose the Indian partner companies that they consider to be the most relevant, then present for the Indian government's approval the offset projects that they wish to execute In India with this local partner so as to fulfill their obligation in this regard".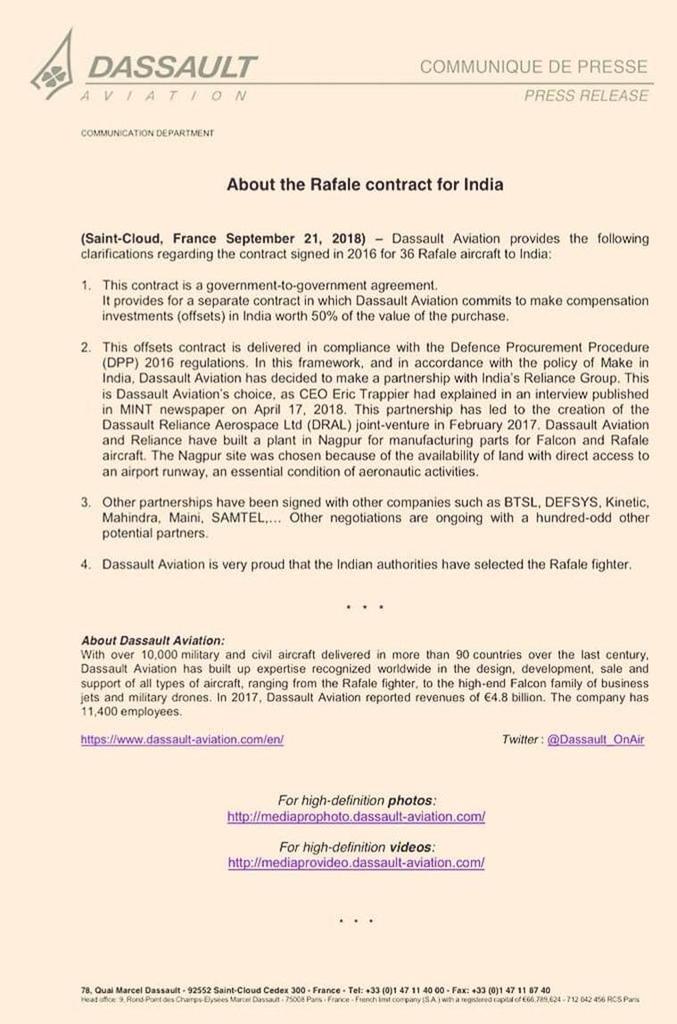 Manufacturer and supplier of Rafale jet, Dassault Aviation also said in a statement, "This offsets contract is delivered in compliance with the Defence Procurement Procedure (DPP) 2016 regulations".
A propos du contrat Rafale en Inde https://t.co/ORqTQCkMJ8
About the Rafale contract for India https://t.co/F9PVjJ6A4p

— Dassault Aviation (@Dassault_OnAir) September 21, 2018
It said, "In this framework, and in accordance with the policy of 'Make in India', Dassault Aviation has decided to make a partnership with India's Reliance Group. This is Dassault Aviation's choice, as CEO Eric Trappier had explained in an interview published in MINT newspaper on April 17, 2018. This partnership has led to the creation of the Dassault Reliance Aerospace Ltd (DRAL) joint-venture in February 2017."
It further said, "Dassault Aviation is very proud that the Indian authorities have selected the Rafale fighter".
Earlier the UPA government was in process to procure 126 Rafale fighter jets, but the deal was finalized under the leadership of Prime Minister Narendra Modi, in 2015 and was signed in September 2016, to procure 36 Rafale fighter jets under 'Make in India' initiative.